Saratoga Springs, NY – Wendy Davis, a local nurse, today was honored with the internationally recognized DAISY Award for Extraordinary Nurses ® for her remarkable work as a caregiver. At a ceremony on March 19th, 2019, she received the award from the DAISY Foundation through her employer, Stat Staff Professionals, Inc.
"Wendy has worked with Stat Staff Professionals for ten years," said Victoria McCartney, a member of the selection committee. "She has consistently demonstrated compassion, knowledge, respect, support, and caring for her patients and her family."
"In our present setting, we have travelers due to the influx of inexperienced staff," wrote an ICU staff member from Claxton Hepburn Hospital about Wendy. "She has not hesitated to jump in and help teach. She shares valuable experiences when they arise. She is a mentor though, as a traveler, it is not required of her. She'll take on the extra patient, even offers to at times, to maintain 'balance' in the assignment for the newer staff."
The DAISY Foundation is a not-for-profit organization, established in memory of J. Patrick Barnes, by members of his family. Patrick died at the age of 33 in late 1999 from complications of Idiopathic Thrombocytopenic Purpura (ITP), a little known but not uncommon auto-immune disease. (DAISY is an acronym for Diseases Attacking the Immune System.) The care Patrick and his family received from nurses while he was ill inspired this unique means of thanking nurses for making a profound difference in the lives of their patients and patient families.
Nurses may be nominated by patients, families, and colleagues. The award recipient is chosen by a committee at Stat Staff Professionals to receive The DAISY Award. Awards are presented throughout the year at celebrations attended by the Honoree's colleagues, patients, and visitors. Each Honoree receives a certificate commending her or him as an "Extraordinary Nurse." The certificate reads: "In deep appreciation of all you do, who you are, and the incredibly meaningful difference you make in the lives of so many people." Honorees also receive a DAISY Award pin and a beautiful and meaningful sculpture called A Healer's Touch, hand-carved by artists of the Shona Tribe in Zimbabwe.
Said Bonnie Barnes, FAAN, President and Co-Founder of The DAISY Foundation, "When Patrick was critically ill, our family experienced first-hand the remarkable skill and care nurses provide patients every day and night. Yet these unsung heroes are seldom recognized for the super-human, extraordinary, compassionate work they do. The kind of work the nurses at Stat Staff Professionals are called on to do every day epitomizes the purpose of The DAISY Award."
Wendy Davis is the second nurse to receive the honor from Stat Staff Professionals. Stat Staff Professionals is one of the few healthcare staffing agencies that has partnered with the DAISY Foundation to award travel nurses with this honor.
"By recognizing our nurses with the DAISY Award we find this to be a meaningful way of sharing the compassionate care our nurses deliver to their patients and families on a daily basis," said Stat Staff Professionals founder and CEO David Theobald, MS, RN, when asked why he decided to partner with the DAISY Foundation. "Our entire organization is honored to be a part of the DAISY Award and witness the differences our nurses make in peoples' lives."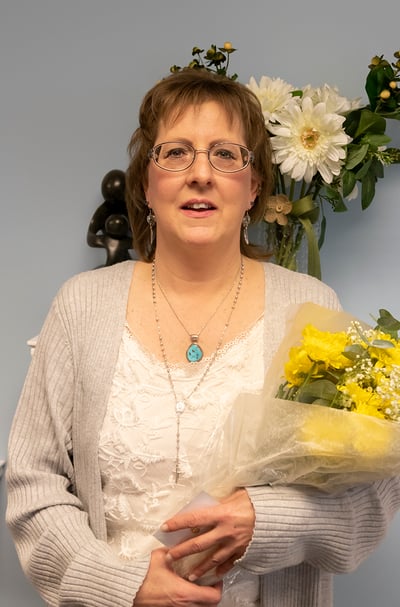 Wendy Davis