Summer is here, the country is opening back up, and it's the perfect time to get out, see some friends, and enjoy the weather. Many members of the Davin Healthcare's team pass their free time, either separately or together, by taking to the links and playing golf.
The modern version of golf originated in Scotland during the 15th century1 and is played by an estimated 24.3 million people every year in the US2. On top of being a great way to enjoy the outdoors, golf has many health benefits, including helping to improve muscle tone and endurance, as well as helping to keep you fit3.
But the Davin Healthcare team has found more benefits with golf. The first is a connection in a time where we still feel disconnected. At the beginning of 2020, the company transitioned to a remote model that left everyone learning to adapt. Over a year later, Davin Healthcare has remained largely remote, but found that a weekly golf outing helps to bring together team members to meet face to face and strengthen the bond between coworkers.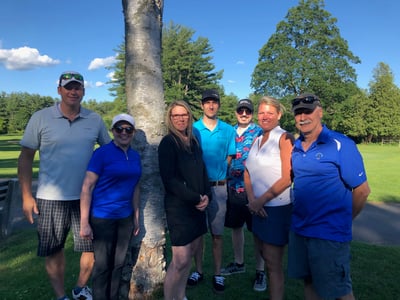 (From Left) David, Sue, Laurie, Dylan, Frank, Kathy, and Mike.
The other benefit is supporting foundations. Every year, Davin Healthcare sponsors golf events at a handful of hospital foundations. This has been a tradition Davin Healthcare has taken part in for many years. The money raised at these events goes toward the hospital foundations' efforts to improve healthcare in their communities.
After pausing in 2020, Davin Healthcare has a full slate of planned golfing events. Two such events have already taken place.
On June 7th, Davin Healthcare attended the Oswego Health Foundation Golf Tournament as a Cart Sponsor.
Oswego Health Foundation describes their community impact on their website:
"As a nonprofit healthcare system, Oswego Health invests every penny of income over expenses in caring for the community. Based on a recent report from the Healthcare Association of New York State, Oswego Health, with an annual payroll of $76 million, generated $228 million in economic activity for the region, translating into $28 million in tax dollars generated.
Also, Oswego Health annually provides $18 million as part of a community investment project to provide care to the uninsured, the underinsured and the indigent.
Simply put, Oswego County is our community and the health and wellness of its residents are our priority."4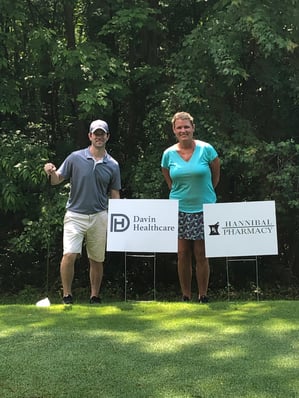 Craig and Kathy at the Oswego Event.
On July 18th, Davin Healthcare also attended the 2021 Cindy & Skeets Glens Falls Hospital Cancer Day Golf Tournament as a Driving Range Sponsor. The event raises money for the C.R. Wood Cancer Center at Glens Falls Hospital.
The event's website explains the mission of the C.R. Wood Cancer Center:
"At the C.R. Wood Cancer Center at Glens Falls Hospital, your life is our mission. We offer a comprehensive program of cancer care services — from advanced treatments and innovative education and support programs to early detection and cancer prevention. For nearly 30 years, some of the brightest minds in cancer care have diagnosed and treated nearly 1,000 new cases of cancer each year. As a 501(c)3 charitable organization, we rely on philanthropy to bring our mission to life in ways both big and small. The support we receive from our generous donors allows us to invest in technology, infrastructure, people, training and programs that would not otherwise be possible."5
Davin Healthcare is proud to sponsor these events. Being able to enjoy a day out playing golf with great people is never better than when it's supporting great causes.
We hope to see you on the links as well.
References