Nurses spend most of their workday on their feet. They put their bodies through extreme strain to ensure that their patients have the highest care. While wearing scrubs is standard for almost every nurse, their shoes are really up to them, and they can make a world of difference.

Enter Rob Gregg.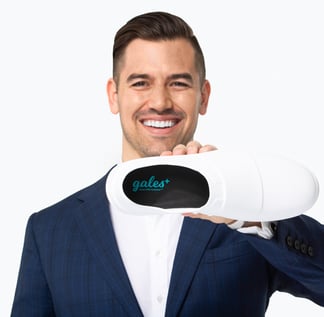 In 2014, he founded the luxury shoe company Rob McAllan. He ran the company for six years, providing high-end shoes to some of the biggest celebrities in the world.
Then Covid happened.
In March of 2020, someone close to Gregg's family fell ill with the virus. Covid hit him hard. His condition worsened, and he was rushed to the hospital in an attempt to save his life. Through the help of an innovative new ventilator and the exemplary care of the doctors and nurses, the family friend pulled through and survived.
But this event changed Gregg. He looked at his life and realized that he wanted to give back. So he quit his job and looked for a way to help those who helped his friend. He started by donating towards PPE production but quickly found out that there wasn't a single provider of PPE footwear.

Gregg threw his entire focus behind rectifying that problem. He founded Gales® (named after Florence Nightingale), which brings Smart PPE Footwear® to the healthcare field.

These shoes are genuinely innovative and incredible. Not only are they super comfortable and stylish, but they are created with 100% antimicrobial protection and are unbelievably easy to clean. And all of this for less than a hundred dollars means it's affordable and one less stress for a caregiver to worry about.

Davin Healthcare Owner and CEO David Theobald, MS, RN, CSP, met Gregg at a healthcare conference and was taken with his story and the shoes. Theobald knew Gales® would be a great company to partner with.

Davin Healthcare thanks Gales® for providing up to thirty members of the Davin clinical team with a complimentary pair of shoes to enhance their experience while on contract. If you are a Davin Healthcare nurse, reach out to your recruiter to learn more about this opportunity.

To learn more about the company and its outstanding product, weargales.com. And listen to Gregg tell his story here.

Note: Images provided by Gales® for use in this blog.