Initiated by The Beryl Institute, a global community committed to transforming the human experience in healthcare, The Declaration for Human Experience is a social movement "that acknowledges and commits to tackle long-standing issues at the heart of healthcare forced to the surface by the global pandemic."[1] This global call to action is intended to transform the human experience in healthcare by promoting the four foundational commitments that are the focus of the movement. Davin Healthcare has signed this declaration because the core mission of the movement aligns with Davin's mission of Caring for the Future of Healthcare, it is only when healthcare professionals of all disciplines are committed to a synergistic approach to healthcare can there be real change in the industry.
What is the Human Experience?
As defined by The Beryl Institute, the human experience encompasses the patient, workforce, and community experiences, in which the "sum of all interactions shaped by an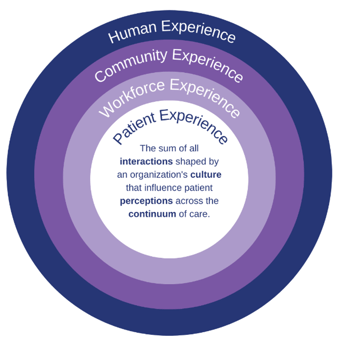 organization's culture that influence patient perceptions across the continuum of care." [1] The associated image is a visual representation of the components that comprise the human experience in healthcare, in which it is only through the achievement of a balanced and symbiotic relationship amongst the Community, Workforce, and Patient can a more holistic experience be achieved. [2] Likewise, by elevating the human experience in healthcare, a more "effective, responsive and equitable healthcare system" can be achieved, the biproduct of which are better results, experiences, and outcomes for patients of all backgrounds and a more "supportive, [energized], and collaborative environment for healthcare professionals and healthier communities that break down barriers to care."

What are the four foundational commitments of The Declaration?
The human experience movement is predicated on the belief that every person can have a part in influencing the healthcare system, and that by committing to the following, the system can be positively impacted:

Acknowledge and dismantle systemic racism and prejudice, tackle disparities and provide the highest-quality, most equitable care possible.

Understand and act on the needs and vulnerabilities of the healthcare workforce to honor their commitment and reaffirm and reenergize their purpose.

Recognize and maintain a focus on what matters most to patients, their family members and care partners to ensure unparalleled care and a commitment to health and well-being.

Collaborate through shared learning within and between organizations, systems and the broader healthcare continuum to forge a bold new path to a more human-centered, equitable and effective healthcare system.

[1]
Figure 2: A Declaration for Human Experience (n.d.) [PowerPoint slides]. trasnformHX.org. https://transformhx.org/share-your-commitment/
Why did Davin Healthcare sign this Declaration?
As a Nurse-Owned and Nurse-Operated Managed Service Provider (MSP) organization, Davin Healthcare has always believed in the importance of adopting a caring model in its approach to business. Jean Watson's Human Caring Theory has heavily influenced our organization's business practices and is a driving force behind our mission of Caring for the Future of Healthcare.[4] Similarly, The Declaration of Human Experience acknowledges that even with the commitments to the four primary tenants above everything else first and foremost, "we are human beings caring for human beings," it is adopting a caring mentality that permeates the mission at hand.[3] The strains that the global pandemic put on our healthcare system and the healthcare workers particularly, has reinvigorated our call to action, and is at the forefront of our minds as we approach our client relationships, service solutions, and business operations.
The "Why" to our organization's work is based on a problem that is multifaceted and compounded by an aging RN workforce, as fifty-five percent of RNs are over age 50 and plan to retire within the next five to ten years. To complicate matters even further, as indicated by the 2019 National Healthcare Retention and RN Staffing Report, first-year new nurse graduate turnover is quickly increasing to over 27.7% within US hospitals. In addition to this, the average number of RN's leaving during the first and second years of employment is up to 48%.[5] Based on numerous forecasts and models, the workforce shortages of nurses and allied healthcare professionals is here to stay. In signing the declaration, we are committed to creating new partnerships and solutions that include nurse leadership influence to help guide our organization within territories of great need and where our passions lie. In today's chaotic healthcare landscape, nurse leaders must stand up for the cause and work collaboratively as influencers to help make their vision a reality.[6] In addition to this, it is imperative to understand the complexities of healthcare and one's relationship to the organization's mission, vision, and values. Drawing on diverse cultures, perspectives, experiences, and talents supports higher embedded strategy to allow diverse groups to link ideas, work creatively, and solve problems in a collaborative and fluid environment.[7]
In signing this Declaration, Davin is reaffirming its commitment to improve the healthcare system by providing solutions designed to serve the Workforce, Community, and Patient equally. It is by providing services to our healthcare clients that focus on quality and clinical excellence and supporting our clinical workforce through extensive initiatives and resources that we know we can have a positive impact on the healthcare system, well aligned with the mission of The Declaration for Human Experience. As an organization we strongly support this endeavor and are committed to the ideals it stands for. To learn more about The Declaration of Human Experience, please visit their website at https://transformhx.org/.
Citations:
1. A Declaration for Human Experience (n.d.) [PowerPoint slides]. trasnformHX.org. https://transformhx.org/share-your-commitment/
2. Wolf, Jason A. PhD; Niederhauser, Victoria DrPH, RN; Marshburn, Dianne PhD, RN, NE-BC; and LaVela, Sherri L. PhD, MPH, MBA. (2021) " Reexamining "Defining Patient Experience": The human experience in healthcare," Patient Experience Journal: Vol. 8: Iss. 1, Article 4. Available at: https://pxjournal.org/journal/vol8/iss1/4)
3. transformHX.org. (2022, October 12). Declaration for Human Experience. https://transformhx.org/

4. Watson's Caring Science & Human Caring Theory. (2022, October 12). Watson Caring Science Institute. https://www.watsoncaringscience.org/
5. Asber, S. (2019). Retention Outcomes of New Graduate Nurse Residency Programs. JONA: The Journal of Nursing Administration, 49 (9), 430-435. doi: 10.1097/NNA.0000000000000780.
6. Grossman, S. C., & Valiga, T. M. (2013). The New Leadership Challenge Creating the Future of Nursing (4th ed., pp. 168-172). Philadelphia, PA: F.A Davis Company.
7. Sampson, C. J., & Fried, B. J. (Eds.). (2021). Human Resources in Healthcare Managing for Success (fifth ed., pp. 132-133). Chicago, IL: Health Administration Press.