Over the next couple of months, Davin Healthcare will be attending and in a couple of cases, hosting a variety of events where you can get a chance to meet with team members and talk about how we can work together to care for the future of healthcare.
Here are some of the events we recently attended or that we'll be attending and coordinating in the near future:
Rome Health Foundation Annual Golf Classic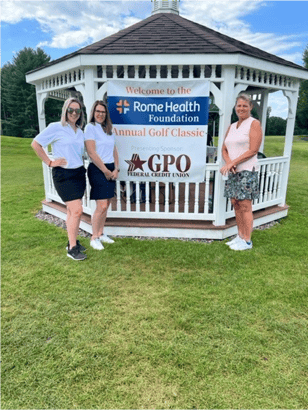 On August 15th, Davin Healthcare team members hit the links at the Teugega Country Club in Rome NY, for the Rome Health Foundation Annual Golf Classic. This event supported the Rome Health Foundation, which raises money to provide present and future technology to Rome Health.
Learn more about the event here: https://www.romehealthfoundation.org/golf-2022-sponsorship.html
NYONEL Annual Meeting and Leadership Conference
Davin Healthcare is exhibiting at the NYONEL Annual Meeting and Leadership Conference between September 11-13, 2022. Held at the Westchester Marriott in Tarrytown, NY, the focus of the conference is, "Nursing Rising: Innovating Education, Policy and Care Delivery." There's still time to register (https://hopin.com/events/nyonel-annual-meeting-and-leadership-conference) and if you're attending, make sure to visit our booth!
Learn more about the event here: https://nyonel.nursingnetwork.com/nursing-events/136701-nyonel-annual-meeting-and-leadership-conference-registration-is-now-open#!info
TravCon
Held at the Paris Las Vegas Hotel & Casino, TravCon is a conference that brings over 1500 healthcare travelers together. While Davin Healthcare will not be there in-person, make sure to check out the itinerary booklet with a QR code created just for RNs, LPNs, and Allied Health Professionals for a chance to win 2 awesome Apple Products!
Learn more about the event here: https://travcon.org/
Nurses House 9&Wine
Davin Healthcare is presenting the first annual Nurses House 9&Wine fundraising event this September. Our 9&Wine Golf Tournament and Reception will be held at the Saratoga National Golf Club on Wednesday, September 21, 2022.
We are raising funds for the benefit of Nurses House, Inc. Nurses House is a national organization dedicated to helping Registered Nurses in need. Nurses House offers assistance with housing expenses and medical expenses to RNs who are seriously ill, injured, disabled or facing other dire circumstances.
During this event, we will have a 9-hole scramble, raffles, prizes, competitions, as well as a silent auction. We are excited to announce that our sponsorship opportunities campaign and dinner reception tickets are live and ready for purchase at: https://donate.nurseshouse.org/campaigns/21774-nurses-house-9-wine-golf-event?fbclid=IwAR2lMi3LyibXNTNFy7qOsRiU-vTccWC1hqYzVlfOej6gLJ-zv16Sj2HQ_eY
But that is not all! Catch Davin Healthcare at the Cindy and Skeets Glens Falls Hospital Golf Tournament at the Sagamore Resort Golf Club on September 16th, 2022!
Make sure to check back often to find out about new events where you can connect with the Davin Healthcare team.